Origin of the Ogasawara Islands
The Ogasawara Islands are a valuable place where the processes of island birth and growth can literally be observed. Rare types of rock that are usually concealed at the bottom of the sea are visible aboveground and enhance our understanding of continent formation during the Earth's evolution.
Birth of Mukojima and Chichijima Island Groups
Approximately 48 million years ago, the Pacific Plate began to subduct below the Philippine Sea Plate. The volcanic eruption of magma produced directly beneath the plate gave birth to the Chichijima and Mukojima Island Groups.
Boninite rocks formed as the erupted magma cooled and solidified. Boninite contains minerals that are found in meteorites and are extremely rare on Earth. Boninite was named after the Bonin Islands because it was first discovered in Ogasawara.
Highlights of Chichijima Island Groups!
Boninite
It was formed as the erupted magma cooled and solidified. Its distribution is from Mukojima to Chichijima Island Groups. It can be seen at Miyanohama and Tsurihama beaches as well as on a trail from Hatsuneura to Ishiura beaches on Chichijima Island.
The Ogasawara Islands are the only place on earth where boninte in good condition can be seen!
Pillow lava
It is formed by the eruption of an underwater volcano. On Chichijima Island, it can be seen at Kominato and Tsurihama beaches, Nagasaki tunnel, and Kamenokubi Cape.
Pillow lava at Tsurihama Beach is formed of boninite, while that at Kominato Beach is of andesite.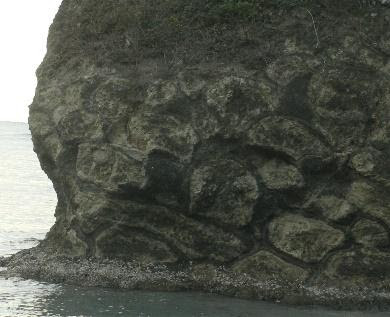 Karst landforms (lapiés/doline)
They were formed as limestone eroded and weathered. On Minamijima Island, sharp lapiés and sinkholes called doline (Ōgiike Pond and Sameike Cove) can be seen. Submerged karst landforms can also be seen around Minamijima Island.
Submergerd karst landforms are uncommon in Japan, and it is designated as a national treasure.
Birth of Hahajima Island Group
As subduction of the cold plate continued, the temperature in the shallow part decreased, and the location of magma production moved deeper and to the west. The composition of this new magma was different. As a result of volcanic activity, the Hahajima Island Group was born approximately 44 million years ago.
Highlights of Hahajima Island Group
Nummelites
These are fossils of large marine foraminifera that used to live along the coast of Hahajima Island. They can be seen at Nankinhama and Miyukinohama beaches and Kōmoridani.
Because they look like coins, they are named "coin stones" in Japanese, and some of them date back 40 million years.
Birth of Kazan Island Group
Subduction has continued to the present time. The location of magma production moved further to the west, creating the Kazan Island Group, which has ongoing active volcanos.
The growing islands of Nishinoshima and Iwo-to!
Nishinoshima
The island is located about 130 km west of Chichijima Island. It has had repeated large-scale eruptions over the past few years, and most of its land areas are newly formed. Ongoing studies are conducted to reveal how an island is formed and how organisms start to live and evolve on this unique newborn island.
Residents of Chichijima Island can even hear a large-scale eruption.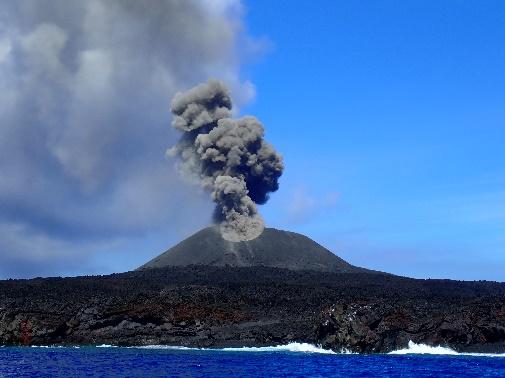 Iwo-to
The island consists of the Kazan Island Group and is located about 280 km south of Chichijima Island. It is well-known for the Battle of Iwo Jima during World War Ⅱ, but it is also classified as one of the active volcanos in Japan. The island continues to be raised up, owing to long-term volcanic activity, by a height of up to 1 m per year.
Volcanic gases are emitted everywhere on the island, and, as its name suggests, the smell of sulfur ("Iwo" in Japanese) spreads all over the island.